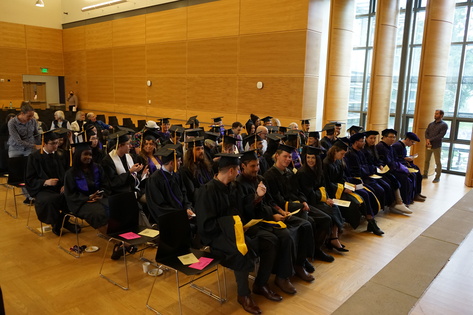 The culmination of each school year is the annual Graduation Ceremony. All graduating students are encouraged to participate in the departmental ceremony, held annually. The ceremony is traditionally held the morning of Commencement.
Online Stream
Available at Friday, June 9 at 4:30 PM
Graduation Celebration Stream
Please note you may need to refresh the stream page at 4:30 PM.
The uploaded stream can be viewed on our Graduation Channel.
---
Important Dates
Graduation Application Due Date: The 3rd Friday of the quarter in which you intend to graduate.*
2023 ESS Graduation Ceremony RSVP Deadline: Monday, May 1 at 5:00 PM
Regalia Order Form Deadline: See UW Commencement website.
2023 ESS Graduation Ceremony: Friday, June 9 at 4:30 PM
*Note: Students planning to graduate in Summer quarter should file by the 3rd Friday of Spring quarter if planning to participate in the ESS Graduation Ceremony or UW Commencement Ceremony.
Past Graduation Ceremonies
Use the links below to see photos, videos, and programs from some of our past Graduation Ceremonies.
---
Graduation Celebration